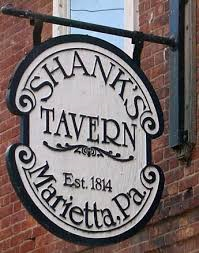 Shank's Tavern 205 th Anniversary Celebration Party
Saturday, May 11th 12 noon to 6 p.m.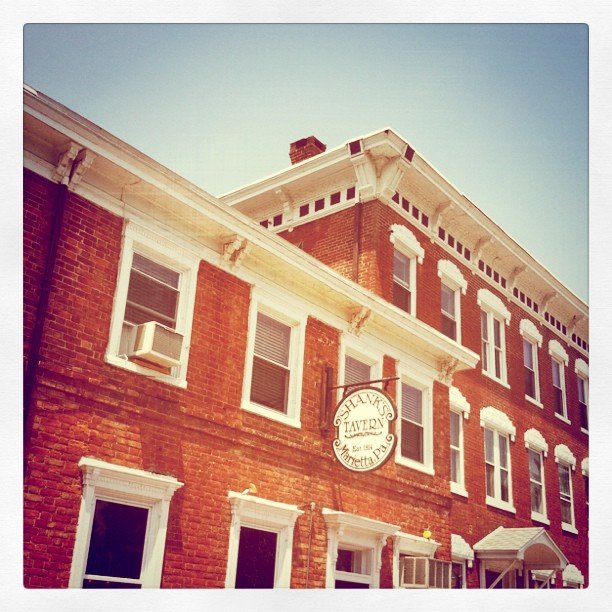 Shank's Tavern, in Marietta, has long been considered the oldest continuously-operated tavern in Lancaster County, and we are proud to announce we are celebrating our 205 th Anniversary in
2019.
To commenorate our big event we are planning a giant outdoor celebration on Saturday, May 11th from 12 noon to 6 p.m. showcasing awesome local musical talent.
The event kicks off with a little country from The Grant Bryan Band. Grant is a PA born and raised singer/songwriter, with roots in Tennessee. The influences definitely come through in the
band's music.
Also slated to perform is Lava Cave. Their music has been called Bohemian Invasion or Gypsy Garage Cabaret. Torch songs, retro-pop, rousing world folk, nostalgic swing and vibey psychedelia all have a home in our playlist. The duo features, Robin Chambers, a madwoman on fiddle, and the amazing Nick DiSanto, the one-man-band.
Headlining the festivities is The Maxwell Project. With a five-piece horn section, three strong lead vocalists, and a driving rhythm section, The Maxwell Project (TMP) is best known for its creative interpretations of 70s and 80s R&B, funk, and soul music and crowd-pleasing renditions
of Earth, Wind, and Fire and Tower of Power classics.
As for food, Shank's is planning a food stand showcasing some of their most popular menu items. Plus, Heim's Food Truck will be there. Featured on tap . . . brews from Stoudt's Brewing in Adamstown. No cover to enter the event. Please bring ID.

For more details, please contact: Bob Shank Tina Greider
717.426.1776 717.413.1827
Shank's Tavern
36 South Waterford Avenue
Marietta, PA 17547
#
A brief history of the Oldest Continuously Operating Tavern in Lancaster County . . . Shank's Tavern.
Originally the Compass & Square, Shank's Tavern was built in 1814 along the Susquehanna River in
Marietta. Over the next 100 years, the building was purchased and sold several times, before finally
landing in the hands of the Shank family, three years BEFORE prohibition ended. Bob Shank, the third
generation of his family, has spent the most of his life working at the tavern in some fashion. He has
helped transform the space over the years, while making sure to maintain its historical charm.
The moment you set foot inside Shank's Tavern you realize it's much different from most bars. You
won't be bombarded by HD TV's broadcasting sports, rather Shank's offers entertainment that spans far
beyond what television has to offer. Every wall is adorned with photos and news articles spanning the
last two plus centuries of the tavern's operation. "If these walls could talk" isn't just an expression at
Shank's.
Although the look and feel of Shank's is like a step back in time, the bar boasts the most up-to-date beer
selection and equipment. The eight rotating taps always pour beer at the perfect temperature, that's
due to a state-of-the art glycol system. The staff does a lot of research to decide which brews to bring in,
maintaining a continuously rotating selection of quality beer.
Speaking of food, from seafood to their eclectic assortment of homemade soups, sandwiches, salads
and personal pizza's, our kitchen offers something that suites everyone's palate. Several years ago we
began incorporating gluten-free, low-carb and vegetarian options, always using market fresh produce.
Nightly specials include Pho' and Spring Rolls on Tuesdays; Mexican fare on Wednesdays; Beef on Weck
(a roast beef sandwich which originated in Buffalo, NY) on Thursdays; and hand-rolled Sushi, Steamers
and fresh-made Jumbo Lump Crab Cakes on Friday's.
In addition, to the tavern-style menu, we strive to make the service at Shank's second to none. Our goal
is to make sure every single customer who walks through the door is greeted with a friendly "hello" and
wished well on their way out the door. You can often find Bob catching up with regulars or entertaining
new customers with stories of the tavern's history. Shank's Tavern is open to the public Sunday through
Friday and some Saturday's. But, for the most part, Shank's is available to rent on Saturday's for private
events, which are often booked three months in advance.
Shank's also supports live music three nights a week. 2019 marks the 19th Anniversary of what started
as Shank's Thursday Night Blues Jam. Every week our small makeshift stage draws a diverse group of
musicians from all over the region. The Blues Jam has gradually evolved into what is now known as "The
Electric Open Mic Jam." Participants sit in with members of our weekly house band or perform on their
own. It is a welcoming environment for both seasoned musicians and newcomers looking to get their
feet wet. There is also a long running Acoustic Open Mic on Tuesday evenings utilizing the same format.
In addition, several years ago we added live music on Friday evenings starting at 8, showcasing up and
coming local talent.
Shank's Tavern is truly unique in so many ways. At a time when restaurant chains seem to pop up on
every corner, it's refreshing to be able to still offer small-town hospitality. If you're getting the feeling
that Shank's Tavern is a one-of-a-kind, warm and friendly corner bar-you would be right! With a
seasoned and dedicated staff, the third generation of Shank's continues to maintain a friendly old-time
neighborhood establishment with simple fare and fine spirits for the comfort and convenience of its
patrons. Next time you are in town, make sure to stop by. You might even catch a glimpse of a ghost . . .
But that's a story you'll have to have Bob tell you.